The apartment
The 4-bedrooms sleep 8 people in two queen size bedrooms, one twin bedroom and one bunk-bedroom. All the bedrooms are pictured in the photos above.
The 2 bathrooms have powerful hot showers, large basins, twin-flush toilets and shaver/hair dryer sockets.
A solid granite worktop surrounds the kitchen, fully equipped with large fridge/freezer, microwave, kettle, Dualit toaster, blender, 3-burner gas stove and large capacity LG washer/dryer.
As you would expect, there is fast wireless internet and cable TV with 40 stations. The television was recently upgraded to a 50" Samsung Smart TV with internet access, so you can watch YouTube, play games and enjoy thousands of other apps.
Air conditioning is throughout the apartment, as are ceiling fans to help you keep cool and comfortable.
You can see more than 20 kilometres from the window, looking west of the city and down to PWTC train station below and the big Sunway Putra shopping mall.
Area description
The apartment is in a convenient location with easy access to all of KL. It's an enjoyable and safe place to stay.
There are loads of cafés and restaurants around the apartment, including Malaysia, Chinese, Indian, Western, vegetarian, Persian cuisines. The places we recommend are identified in our 39-page city guide.
The huge mall opposite is under renovation until end of 2014. Until then, Sogo is another excellent mall & department store just 2 stops on the train.
Nearby train stations include:
PWTC: 3 minutes walk (Star line)
Chow Kit: 10 minutes walk (Monorail)
Putra: 10 minutes walk (KTM Kommuter line)
It's easy and cheap to hail taxis from the main road. Almost every popular place in KL is within 20 minutes journey by either train or taxi.
Floor-plan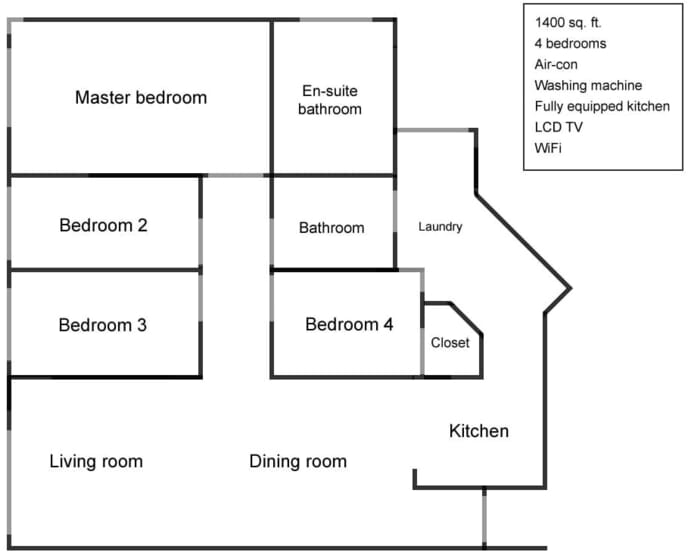 Video tour (2 minutes)
Map