The apartment
There are 2 bathrooms, with hot showers, large basins and dual-flush toilets.
We take care of the little things too - travel adaptors, shaver charging points, umbrellas, batteries, maps, city guides and other things to make it your ultimate stay in Kuala Lumpur!
The swimming pool, paddling pool, jacuzzi, playground, tennis court, basic gym and café are all located at level 2. The 24 hour mini-market is located at level 1. It's all here and convenient for you to use.
As you'd expect, the apartment has fast wireless internet and satellite TV.
The kitchen has everything you'll need for either a quick snack or a full-blown gourmet dinner. Twin burner gas stove, convection oven, microwave, kettle, blender, toaster, rice cooker. All the utensils, crockery, kitchen knives ad cutlery too. There is even filtered drinking water, so you don't need to buy plastic bottles all the time.
The washing machine is built-in to the kitchen cabinets and there is a big 6-foot 5-bar retractable clothes line for hanging laundry to dry (which can dry within hours in the tropical heat).
Area description
The local shops and the large mall opposite provide a good choice of 200+ restaurants, cafés and shops.
Trains are totally convenient - PWTC train station is just 3 minutes walk, the Chow Kit monorail station is 10 minutes walk and Putra station is also 10 minutes walk.
Taxis are easily hailed and cheap too. You can normally catch a cab outside the condominium within 2-3 minutes. Most of the popular spots can be reached within a 15-25 minute taxi ride.
Nearby train stations include:
PWTC: 3 minutes walk (Star line)
Chow Kit: 10 minutes walk (Monorail)
Putra: 10 minutes walk (KTM Kommuter line)
It's easy and cheap to hail taxis from the main road. Almost every popular place in KL is within 20 minutes journey by either train or taxi.
Floor-plan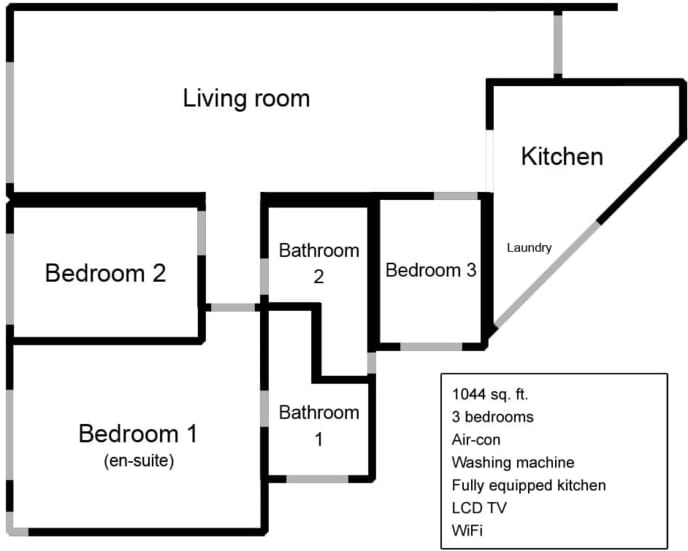 Video tour (2 minutes)
Map